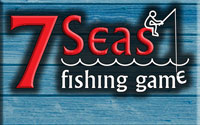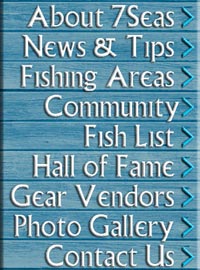 Child's Play Charity Event
On Friday, December 5, 2008, from 4 to 10 PM SL time (Pacific), the creators of the 7Seas Fishing Game in Second Life(tm) sponsored our second annual benefit for Child's Play. It provides toys and games to children's hospitals worldwide.
Though the 2008 event is over, we're keeping this page up so people can see how it went!
The final tally: L$174,187, which is US$1,186 after matching the first 140k of donations. Highlights included massive bulk bait rampages, great live music, an auction of a 40 meter long fishing rod, and some really epic contests held at Flotsam and all over SL by our wonderful fishing community.
Here's how donations work:
During the event we will be donating ALL of our personal profits (7Seas Fishing, Seven's Selections shop, and Insert Coin Arcade) to the charity. So anything you buy from us during the event counts.
We'll also match the first $500 U.S. dollars, so your purchases count double for the charity!
7Seas fishing area owners, don't worry: you still get your usual 20%.
Child's Play Charity Community Events Scheduled for December 5, 2008
We encourage fishing area owners to schedule events at their own 7Seas areas anytime between 4 and 10 PM SL time (Pacific). After all, it helps the charity and you can keep your usual 20% commission! There are promotional signs ready for you to post in our group notices.
Contact 7Seas Sass before 4 PM to schedule an event. It doesn't have to be a contest, it can be anything really!
Duration
Location and Hosts
Event Details

7Seas Fishing Headquarters (Mature region, but family friendly.)

Hosts: Seven Shikami, Jen Shikami, and Meissa Thorne

DJ, live music, and contests. During DJed contests, the top 5 winners in each contest get a special prize, and the top 3 winners each get 3, 2, and 1 buckets of bait respectively! (Prizes subject to change.)

Time
Event
Contest Prize
4pm
DJing/Contest: Lobster Rock
Golden Freestylers Guitar
5pm
Live Music: Onehempcat Oldrich
(no contest)
6pm
Live Music: Keiko Takamura
7pm
Live Music: Phemie Alcott
8pm
DJing/Contest: Nerdcore Battle
8-Bit Fishing Trophy
9pm
DJing/Contest: Epic Finale
Unique Championship Fish

4 to 10 PM

Toaster Poodle Ice Fishing and Skating (Mature area, all welcome. Adult club next door.)

Host: Blyxa Darling

All area and store profits will be donated from 4 to 10 PM!
Bikini Ice Fishing Contest: At 5 PM SLT, a 45 min contest will be held with cash prizes. Bikinis available but not required.

4 to 10 PM

Sugar Rush (Family friendly. No weapons. No nudity.)

Hosts: Mialissa Masala and Skinny Paine

Half hour contests and a marathon from 4-10 today . Prizes will be choice of custom, custom trophies, and for the marathon a prize pot starting with 300L.

4 to 10 PM

Host: Domneth Dingson

Custom prizes in the servers. Three contests: 4 to 6 PM, 6 to 8 PM, 8 to 10 PM. Winners recieve an air hockey table, value L$2100.

5 to 6 PM

Pala (Go down boardwalk to pier. See rules notecard at fishing area.)

Hosts: Grey Nacht and Aeryn Magic

Unlimited competition. Grey Nacht will match the prize pot as a charity donation! Custom fish (Iincluding Pala and Migizi customs) to catch, cash and custom trophies to the top 3 fishers (and bait for 4th and 5th). The prize pot starts at L$200.

5 to 7 PM

Hosts: Smilemaker Mathy

Limited, individual. 1st $500, 2nd $250, 3rd $100.

6 to 9 PM

Voice Fantasies (Mature region, but all welcome for the event!)

Host: Dragyn Clawtooth

Event with a DJ. Donation jar setup. Every SUR caught we will donate 100L and every UR caught we will donate 50L. May have a small contest as well.

6 to 7 PM

Host: Sammie Otoole

$200 in the pot, all are welcome even kid avies, also pirate cove and migizi's customs.....